by

Panther's took the time to interview Prada Clutch this month!  Have a read for yourself:
What do you love most about hosting Drag Bingo at Panthers?
What I love most about hosting Drag Bingo at Panthers would have to be getting to know the patrons as well as entertaining them. Oh & having selfies with them all. It's so on-trend #SELFIE! If I put a smile on your dial, then my job is done!
Is this activity just for the "bingo professionals?" What makes this such a unique evening of laughs?
Drag Bingo is not just for bingo professionals, everyone is welcome!
If you're new to playing bingo, we'll break you in slowly! The focus of the night is to have a fabulous time & play some bingo. The night is unique to Panthers as you will not get a more entertaining drag queen on a Thursday night, in Western Sydney, that is more hilarious than me! Does that sound self-indulgent?…
If you could describe yourself in a single word, what would it be?
FABULOUS, darling! (darling not included in the one word allocation)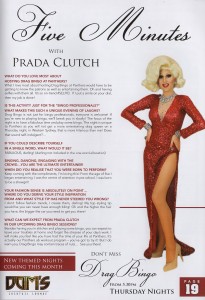 Singing, dancing, engaging with the crowd…you are the ultimate entertainer! When did you realise that you were born to perform?
Keep coming with the compliments, I'm loving this! From the age of five I began entertaining. I was the centre of attention in pre-school. I was born to be a showgirl!
Your fashion sense is absolutely on point…where do you derive your style inspiration from and what style tip has never steered you wrong?
I don't follow fashion trends, I create then, darling! My top styling tip would be you can never have enough bling! Oh & the higher the hair your have, the bigger the car you need to get you there!
What can we expect from Prada Clutch in our upcoming Drag Bingo sessions?
Besides having you in stitches & playing some bingo, you can expect to leave your troubles at home & forget the stresses of your day's work. I will make you feel like you have had the time of your life at Panthers. It's actually our Panthers ab workout program – you got to try it!. But I do warn you, Drag Bingo may contain traces of nuts… See you there!
Drag Bingo is held weekly on a Thursday night at Panthers.  To reserve a table email doms@panthers.com.au
Our bingo events will have you in stitches & wanting more! Book Drag Bingo for your venue, visit: http://www.sydneydragqueen.com.au/drag-bingo.html
Sydney Drag Queen :: Let us entertain you!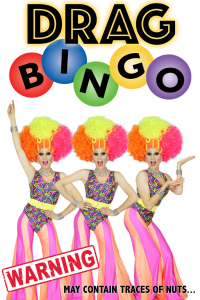 by